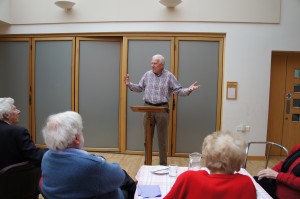 Christianity Explained is a home-grown, 6-week course designed with senior citizens in mind. The purpose of the course is to put across in non-jargon language and in a friendly, non-threatening manner, what it means to live as a Christian. The 6 Sessions cover, Who is God? Who is Jesus? Who is the Holy Spirit? What is the Bible? The Christian Life and the Christian Hope.
Not too much information, just enough to think through in time for the next week.
Each session lasts 75 minutes, starting with a light lunch, then a 10-minute introductory talk, followed by an opportunity to ask questions over a cup of tea and cake and finishing off with a second 10-minute talk and any further questions.
If you are interested in attending any future Christianity Explained courses or would like to know more please contact us.
Most enlightening! Many things explained in a way one was able to understand. Thank you!